April 29, 2015
Backstage.com | by Daniel Holloway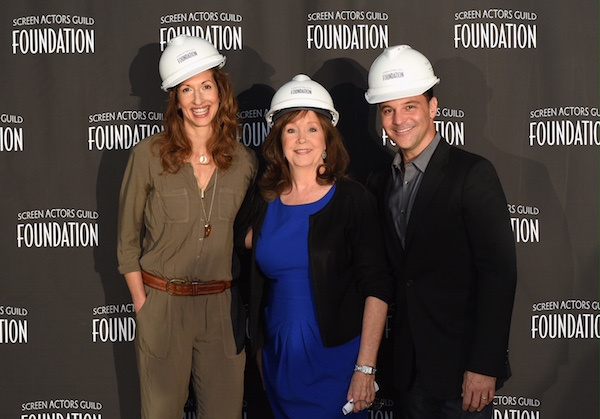 The Screen Actors Guild Foundation broke ground on the final stage of its New York home Tuesday. The ceremony marked the beginning of work on a 4,000-foot space on the ground floor at 247 W. 54th St. that, when completed, will house screening, performance, and education facilities for the SAG Foundation Actors Center in New York.
"Since 2010, the SAG Foundation has quadrupled its free, educational programming for SAG-AFTRA New York members," SAG Foundation President Cyd Wilson said. "The rate at which New York performers are taking advantage of our professional programs and resources is astounding. This dedicated theater space is our Actors Center of dreams; we're confident that if we build it, they will come."
Wilson added, "We look forward to putting the SAG Foundation Actors Center on the map in the center of one of the world's greatest performing arts and broadcasting communities."
Wilson put ceremonial shovel to dirt alongside SAG-AFTRA National Executive Director David White, SAG Foundation Treasurer Maureen Donnelly, SAG Foundation board members Rebecca Damon and John McGuire, and SAG-AFTRA New York Local President Mike Hodge. Jonathan Denham and Paul Wolf, co-presidents of Denham-Wolf Real Estate, which procured the space for the foundation, also attended.
Phase one of the New York Actors Center—which included a classroom, on-camera lab, computer lab, and the Entertainment Industry Foundation Voiceover Lab located at 1900 Broadway—was completed in 2014. The West 54th Street second phase will be designed by Rogers Partners Architects+Urban Designers. Fisher Dachs Associates will serve as theater consultant for the project.
"The expansion of the SAG Foundation Actors Center in New York has long been in the making and adds to the plethora of programs and resources available to our local members here in the city," White said. "The center's location is extremely convenient for any busy member on-the-go: in the heart of Manhattan near Broadway and not far from SAG-AFTRA's New York office."
SAG Foundation served more than 12,000 SAG-AFTRA actor members in the New York with more than 500 free workshops, classes, and panels in 2014.
"When I joined the Foundation Board, New York members didn't even have one consistent program a month," Damon said. "Our increased programming has been a real game changer, giving members access to casting directors and other industry professionals, including some of the most talented performers working today."